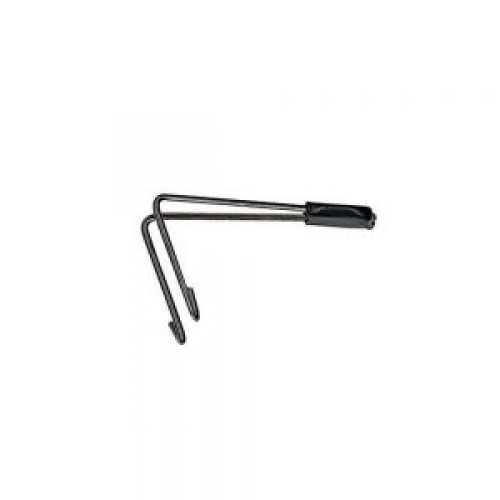 The Hayabusa Fishing Trailer Lock is a very effective and versatile accessory for several applications. Lock any plastic trailer into place on nearly any hook shank with this unique product from Hayabusa Fishing. Use the trailer lock when fishing soft plastic baits on any lead or tungsten head where you need the plastic to stay in place on the hook shank. Simply slip the trailer lock eye over the hook and embed the pronged ends into the plastic. Your trailer will stay in place for the long haul! Tailer Lock comes in three sizes: Small, Medium, and Large. Examples: swimbait fishing with an open hook jig head, fishing a plastic trailer on a skipping jig or football jig, fishing plastic trailer on a spinner bait or buzz bait. Hayabusa – the pride of Japan – has been manufacturing uncompromising, high quality hooks since 1958. - 4 Pack

Trailers on a variety of bass fishing lures – from spinnerbaits, chatterbaits, buzzbaits to every imaginable type of jig – often bunch up on fishing hooks. Soft plastic trailers bunch up on movement baits. When this bunching occurs, the soft plastic trailer rips and alters the bait's natural motion in the water. Bass fishermen frown on both side effects because both can be time consuming and expensive. In the case of expenses, repeated bunching causes soft plastic rips and tears. To replace the trailer is both expensive and time consuming. In the past bass fishermen glued trailers onto their fishing lures. However, glue erodes soft plastic trailers or the adhesion proves fleeting. However, Hayabusa Fishing created new terminal tackle to solve this trailer issue: the Trailer Lock.
Regardless of the type of soft bait trailer you use on just about any type of fishing lure, bass anglers around the world trust Hayabusa's Trailer Lock terminal tackle innovation to alleviate those trailer issues. Dedicate more time to fishing, less time to adjusting messy tackle. Fishermen focus on prevention as much as is possible. The Trailer Lock prevents multiple issues from occurring while fishing, which is preferable to on-the-water problem solving. For an inexpensive price tag, to ensure 100% convenience, this is the fishing product most anglers have been patiently waiting to test and use on a regular basis. Don't hesitate a second to use the Trailer Lock on your underspins or soft plastic swimbaits. In fact, your swimbait fishing will improve dramatically once you use the Trailer Lock – to keep your swimbait flush with your chosen jig head.

Hayabusa Trailer Lock - 4 Pack